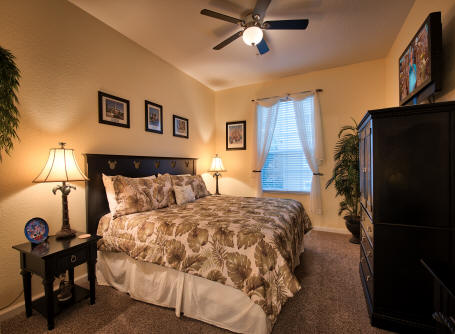 DOWNLOAD A PRINTABLE BROCHURE
HERE
For reservations or additional information contact us at
mickey@mickeyscondo.com
, use our handy
online inquiry form
, or call Jennifer directly at
732-600-8032

If Mickey's Hideaway doesn't have the availability you desire, try one of these:
MICKEY'S CONDO MICKEY'S CLUBHOUSE
Click

H
ERE
to order attraction tickets
with a LOW PRICE GUARANTEE.
Enter the promotional code HOAMickey123 for extra savings






Minutes from the Magic
Welcome to Mickey's Hideaway. Our first vacation rental, Mickey's Condo has become so popular with our satisfied and repeat guests that we have now opened Mickey's Hideaway of equal vacation value. Our condos are rented owner direct and located at the prestigious and luxurious 5 star Windsor Hills Resort in Kissimmee, Florida. For your peace of mind, this is a 24hr secured gated community located just 2 miles from the main gates of Disney! In the Disney area, location is everything, and we are so close to Disney that their nightly fireworks can easily be seen from the resort property. Our 3 bedroom, 2 bath deluxe condo has plenty of room and amenities for everybody to totally relax and enjoy a Florida getaway..
You won't want to leave us......
In the Orlando, Kissimmee, Florida Disney area there is a mind boggling assortment of high quality outstanding local attractions including Walt Disney World, Sea World, Universal Studios, and many, many more. There is a huge variety of restaurants to suit every taste and hundreds of shops all located within minutes from Mickey's Hideaway. With so much to do in this wonderful area, you'll want to stay as long as you can.
Windsor Hills Resort
Video Tour
Closest to Disney